Dreamforce is right around the corner. The 15th of September will be here before you know it! This Dreamforce will be the third one that I will attend in person and there are certain things that I've learned from my previous experiences that will help to make this Dreamforce my best one yet. In this post, I share those tips and invite you to comment with your own. My role is a technical developer/architect role, so my perspectives are more biased towards that.
Building An Agenda
There are excellent technical sessions at Dreamforce, but there are so many and you can only attend a handful. My first tip is to filter agenda builder searches on sessions in Moscone West, which is where the Developer Zone is.  The majority of the most technical sessions are there and in between sessions, there are a ton of other technical things to do. You can easily pop out to a theater session, visit other stands in the dev zone, or hop on by the admin zone and check in with the Awesome Admins.  After I go through all of the days in the agenda builder with the Moscone West filter, I go back and search for specific topics and fill-in and/or adjust my agenda. I still filter on the developer and/or architect roles for that search.
I try to fill my agenda with sessions on newly released features and roadmap sessions.  For example, last year's Dreamforce had sessions on the then new Lightning Components framework. I filled up my agenda with as many sessions related to the framework, particularly with as many that addressed their roadmap.  Likewise, there are similar bleeding edge sessions this year which I will attend.  If I have any other time slots left, I try to fill them in with useful sessions about enterprise architectures, sessions involving automation, and sessions involving tools I can use (e.g., dev tools, query analyzers, etc.).
Lastly, I always attend the Developer Keynote and the Meet the Developers session.  Both are a must if you develop on the platform.
Attending Sessions
There are certain sessions that I have on my agenda that I know I will not miss. There are others that I may miss, if other events and goings-on in the Developer Zone pull me away.  Additionally, I am sure that I will end up attending, as a walk-in, some sessions that I do not have on my agenda. I am rigid about a few, flexible with some, and always keep myself open to new sessions. I use my agenda as a general guide.
I am grateful that my employer, Trifecta Technologies, sends me and some of my colleagues to Dreamforce for the week. When we get back, we want to share the key things that we've learned. It is useful to take notes in sessions. If you do not have a notepad or note taking device, just recording some key words in your phone in a note app or something like that to jog your memory later is useful (another tip: bring a portable cell phone charger).  If you don't do that, when you get back to your hotel you can jot down some notes from the day's sessions. Additionally, do not be afraid to ask questions of the presenters or use the chatter feed associated with the session.
In Between Sessions
There is a lot going on at Dreamforce and many experiences to be had in the Developer Zone. I've found that there is a lot of carry over discussion after sessions. This can be the perfect time to meet new people and dive deeper in depth on the topic of the session. You may hear someone ask an interesting question and approach them for a conversation. You can talk to the presenters afterwards, time permitting.
Hang out in the Developer Zone! There is a ton going on and some of the world's greatest Salesforce minds will be around. Find some of the experts you know from the Internet and talk to them. There will be a library where you can get free books on all of the technologies. Make use of it and get yours! Another tip here: leave plenty of extra room in your suitcase for all the stuff you'll get.
Do not be afraid to relax a bit and hang out with other devs.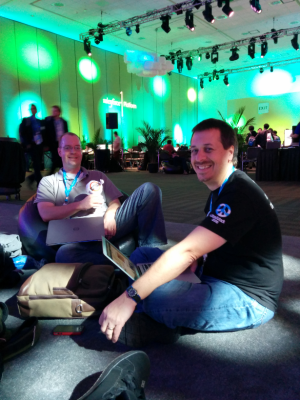 Swag. There's lots of it to be had and developers love it!. 😉 T-shirts are a great giveaway and you can collect a few from your favorite companies and technologies. Can you get 52 like David Liu?
All 52 free t-shirts received @Dreamforce this year! pic.twitter.com/HeF6TmYmgg

— David Liu (@dvdkliu) October 17, 2014
Adapt
My first Dreamforce, I tried to attend all of the sessions I had planned on my agenda and attempted to be militant about scheduling. That lasted about 3/4 of a day.  I learned to adapt. If I was in the middle of a conversation with a technical subject matter expert, it was worth continuing the conversation versus cutting it off to stick to my agenda. If I passed by a session I had not registered for that looked good or heard about one from another developer, I attended. My point is, that there is so much awesomeness that you'll need to be able to adapt to maximize your involvement and enjoyment. And don't sweat it. You can't make a wrong decision. Choosing one session versus another is often like choosing between an Oreo milkshake or a peanut butter milkshake — a great win no matter what. Also, for the most part, the sessions all get posted online within a few weeks, so if you miss one you do miss out on the benefits of seeing it live, but you can still view it.
Preparing for Dreamforce with Trailhead
Salesforce's awesome guided interactive learning experience, Trailhead, has recently released a ton of new content. One of the new modules is the Ready for Dreamforce module.  There are three units to complete: Get Ready for Dreamforce, Admins and Developers at Dreamforce, and Maximize your Experience (make sure you do this unit prior to packing!).  The units are filled with pro-tips which are very useful, videos, and a solid background on the awesome Admin Zone and the dynamic Dev Zone. The answers to the challenge questions are a lot of fun as well (Spoiler alert: Dreamforce may or may not actually be an elite tattooed crime fighting unit.)  If you are going to Dreamforce 15, especially as a first-time attendee, this module is a must. You can and should do it right now!
Dreamforce Power Up
Dreamforce is, without a doubt, the single best way to power up your Salesforce energy batteries. There is so much innovation going on in the Dev Zone and so many great ideas being shared that it is impossible to leave a Dreamforce, largely spent in the Dev Zone, without being completely energized and full of excellent ideas.
I will post my own schedule within a week or two. In the meantime, please feel free to share any tips and I'll see you soon!